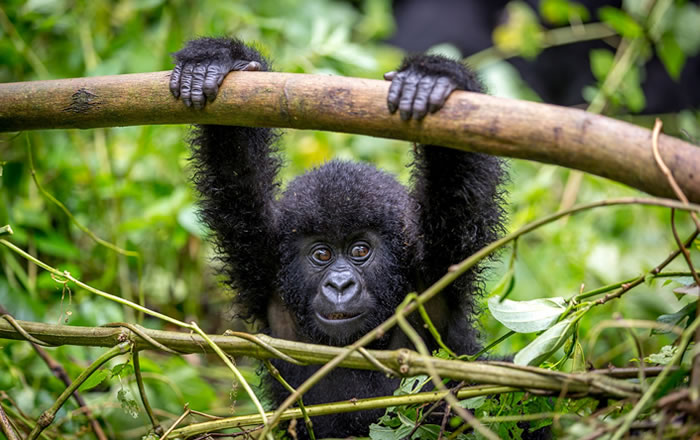 Everything You Need To Know About Gorilla Trekking
A trip to East Africa isn't complete without Gorilla trekking in Uganda.
If it's included on your wish list for Africa, make sure to know these prominent points highlighted below for a great adventure of a lifetime.
It is our pleasure to provide you with all the information you would like to know about this prodigious activity done only in Africa.
What's Gorilla Trekking?
This world's engaging activity grants tourists an opportunity to meet Gorillas in their natural habitats. Gorillas are herbivorous in nature and live in groups.
Each family is led by a male dominant silver-back. It is responsible for protecting the members, look for what to eat, and construct temporary huts for shelter.
Gorilla trekking is a group expedition. Only eight tourists are allowed to visit one troop per day. This activity includes walks via rugged trails while searching for these wild animals.
After locating their presence, tourists interact with the apes for a period of one hour. Nothing is more breathtaking than seeing these creatures as they feed, play, wander around, and climbing trees.
You are free to take a thousand photos and videos of these great giants of the jungle.
Things Needed to See Gorillas.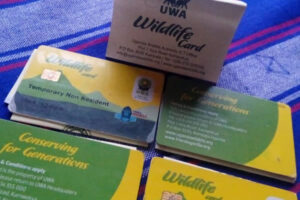 The main thing required for this adventure is a gorilla permit.
It is a must buy and the rate for this card in Uganda is $700, 400 USD in DR Congo and $1500 in famed Rwanda, the land of a thousand hills.
If not the permit you can talk about the documents needed at the airport before you enter the country for your ultimate gorilla safaris.
The list includes a valid passport, tourist visa, yellow fever, and the recently introduced Covid-19 vaccination card.
Then for the trekker, you make sure to pack some things that are essential for this wild expedition.
These are strong hiking shoes, insect repellents, long-sleeved shirts and trousers, huts, sunglasses, an umbrella, gloves, waterproof bags, jackets, and other necessary clothing.
Where to Go for these Apes.
Are you after seeing the Gorillas before you quit travel? Rwanda, Uganda, and the Democratic Republic of Congo are the best for this encounter.
DR Congo hides in the central part of Africa and is home to two parks (Virunga and Kahuzi Biega) that protect two different gorilla species named mountain gorillas and eastern lowland gorillas.
The other two destinations are prominent neighbors in the eastern region of Africa.
Rwanda is comfortable with its Volcanoes National Park, a great habitat to about ten fully habituated gorilla groups.
Uganda is proud of two protected areas that house over twenty gorilla families available for trekking excursions.
Best Time for Gorilla Tours
The answer is obvious. Since this activity involves trekking I don't think you would wish to enjoy it when there are heavy downpours of rainfall.
Therefore it isn't feasible during the rainy season. During this period, trails are muddy and hard to pass.
If you still need my answer, a dry season is perfect and you will have a thrilling gorilla trekking adventure.
What about Age?
This is important. Not everyone is permitted to meet Gorillas in the Jungle.
The minimum age for this pursuit is fifteen years. If you are not contented with the decision here is the reason why you should.
Young ones are not allowed because it is always advised to be calm while in the presence of these apes. Children are uncontrolled.
Some feel scared when they see these animals and reach the extent of screaming or running. All these acts force the Gorillas to see you as an enemy thus attacking you. To my opinion, yes they shouldn't.
Dos and Don't
Let me focus mainly on the Don'ts. These are things you must not do while in the jungle.
The list encompasses maintaining the voices at low tone, never eat in the presence of these animals, no touching on them without permission, avoid provocation, don't litter rubbish and cameras wish flush lights are not allowed to take snaps.
Moreover, if you happen to have signs of any infectious disease, no permission for you to trek the Gorillas.
For those who are not yet recorded in the great book of gorilla trekkers, it is time you join our Gorilla Safari in Uganda because you are missing a lot.
The experience is exceptional and rewarding, especially if you love to get lost in nature.
Other Appealing Pursuits if not Gorilla trek
If Gorilla trekking doesn't appeal, you still have plenty of mind-blowing activities to partake in Uganda, Rwanda, and DR Congo.
The list starts with Golden monkey tracking, Dian Fossey hike in Volcanoes, Chimpanzee tracking, game drives, boat cruise, nature walks, city tours, mountain hiking, culinary adventures, white water rafting in Jinja, bird watching, canopy walk in Nyungwe, and a lot more.