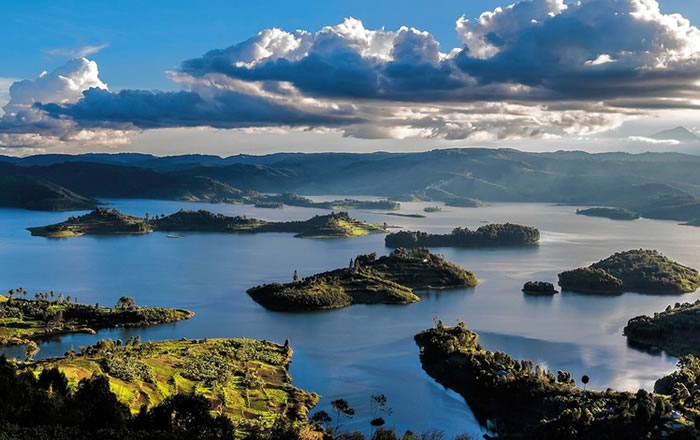 Bwindi Gorilla Safari and Lake Bunyonyi Holiday
Bwindi Impenetrable Forest National Park is ranked among the most visited parks in Uganda, despite the fact that it is found far away from Kampala, the capital city of Uganda. Many visitors cannot miss traveling to this park due to the unique primates found here.
Bwindi is located in the southwestern Uganda and it is 8-9hours drive from Kampala. Bwindi is another Switzerland of Uganda due to the mist that is received around the hill sides and within the forest, the park is rich in biodiversity with over 120 mammals plus several other primates such as baboons and chimps.
Traveling to Bwindi for gorilla safari is another interesting activity that should not be missed out on your safari package; Bwindi only has got enough gorillas that are visited by almost 80 visitors per day.
The park has got fourteen gorilla groups located in different sectors including Nkuringo, Rushaga, Ruhija and Buhoma.
All these gives you a reason as to why you should enjoy the trek minus congestion on a single group hence enabling you to have a great experience while in the wild.
For only USD 500 for foreign residents and USD 700 for foreign non residents, you can obtain a wonderful trekking permit that will enable you access these gentle creatures in their natural habitat.
Gorilla trekking take 4-5 hours depending on where they nested the previous night. After seeing the gorillas, visitors are allowed to use one hour to take photos, experience the gorilla movements and how the silver backs lead the entire family. You will see how the young gorillas entertain the group.
After nice experience rangers will lead you back to the park headquarters where you will receive a certificate of appreciation from the park management thanking you for supporting wildlife conservation campaigns.
After this great day of trekking deep in the forest, one cannot just leave this region minus visiting the great lake around the area that's Lake Bunyonyi a lake of wonders.
Lake Bunyonyi is found in the districts of Kisoro and it is an attractive feature for the people from gorilla tracking and other activities around the region.
Visitors to the lake may engage in many activities that are supported at the lake including,
Fishing, this is an interesting activity to many visitors who are curious more about fishing, fishing gears and equipments can be hired from the local service providers around the lake or you can come along with yours in case of a planned trip.
You can sail on the blue waters as you enjoy fishing of the various fish species including tilapia and other fish species.
By chance after hooking your fish you will enjoy it after roasting it in the evening hours as you take some beers from the bars at your lodge of stay.
Swimming, the major reason to stay around this water body is having some swim in this cold water, this is the second deepest lake in Africa and therefore when you are swimming, you have to swim with care and you do not have to go very far away from the shoreline.
Swimming here can be your pleasure and therefore it is one of the best activities done to relieve stress after a long day trekking in the rolling hills of Bwindi.
Visit the Akampene Island, this is an historical island around Lake Bunyonyi, this island is also known as a punishment island where girls who got pregnant before marriage were thrown and left to starve from.
This was accompanied with an assumption that parents couldn't get any form of dowry from them, these were left to starve and those who attempted to swim back to the main land died on their way.
The only way to survive death was when those men who couldn't afford to pay bride price came to rescue you from the island.
Honey moon holidays, the place around the lake is very fascinating for honey moon holidays due to the conducive environment; this is another place for hiding from stress and enjoying the wonderful holiday after your wedding.
Here you will get to interact with the different local people around the villages who will take you through their traditional culture and the different cuisines, traditional dances are performed including folk songs hence making your holiday a nice one with new adventurous environment.