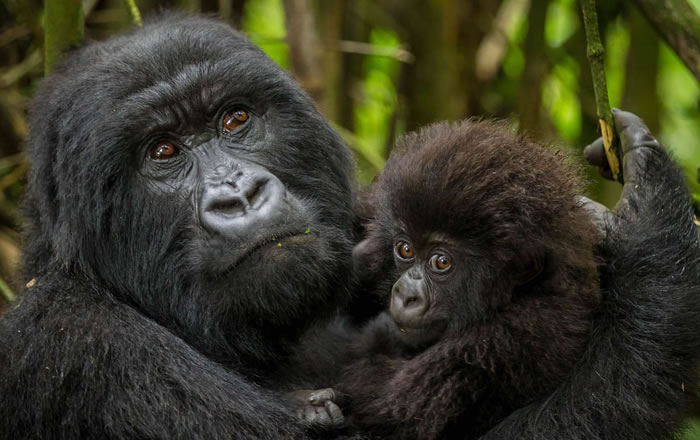 How To Book A Congo Gorilla Permit
Welcome to DR Congo, a nation in the Central Africa and it is one of the three countries which protect the rare Mountain gorillas.
Virunga National Park is the only Park in Congo which inhabits the rare endangered Mountain gorillas and the Park protects over 200 gorillas.
A gorilla permit costs US$ 400 and the following are some of the ways how a Congo gorilla permit can booked:
Look for good tour companies to help you in purchasing the gorilla permit on your behalf. Most of the tour companies are in Rwanda and Uganda though Democratic Republic of Congo also has some but as long as you get the tour companies in those three countries they will help you in booking the gorilla permit such that you explore the rare endangered mountain gorillas in Congo.
It will be difficult for you to purchase the gorilla permit in Congo since you will be far from Congo and thus you will need the assistance of any tour company.
The tour companies are designated to help you through https://www.gorillatrekkingtour.com/dr-congo/gorillas-nyiragongo-hike/booking for you the tourist activities in various Parks in Congo and all over East African Parks of which the best tour companies include the Nature Adventure Africa Safari Limited.
The Nature Adventure Africa Safari Limited will book for you a gorilla permit and then transfer you from the airport and many other things relating to your tour.
Therefore, you need to consult the Nature Adventure Africa Safari Limited if you want to book a discounted Congo gorilla trekking permit and for other bookings including the vehicle you will use during your gorilla safari.
Through using this tour company, you will send emails to its professional tour consultant Konde Moses who replies eventually after receiving your emails and he is so professional and friendly to his clients thus you will have a great interaction with him and hence grabbing yourself a Congo gorilla permit.
After identifying the tour company, you are to use in your tour, you are then emphasized to pay at least a certain deposit with your tour company such that you ensure the company that you are serious with your tour.
Remember that a Congo gorilla permit costs US$ 400 thus you are emphasized at least to pay 30% or 40% of that cost.
Advance booking is also very essential since many tourists travel to Congo for the gorilla safaris, therefore if you delay to book for a gorilla permit for your gorilla tour in Congo, you may miss out your tour because you might find when all the gorilla permits have been purchased for that particular month you may have planned to visit Congo thus delaying your tour or also you may find when all tour companies are booked and all the vehicles are booked.
This is due to the fact that mountain gorillas are only found in three countries yet the global population is too huge because the world comprises of very many countries and very many people who always move from their countries for the gorilla safaris in Congo and other two countries (Uganda and Rwanda) which also keep the mountain gorillas.
Therefore, due to the scarcity of these mountain gorillas all over the world, you are emphasized to book earlier especially in high seasons of June to October and December to January where many tourists move from their countries for gorilla tours in Central and East Africa which are the only places where these endangered primates are found.
Therefore, after grabbing yourself a Congo gorilla permit, you will then go to Virunga national park in Congo and enjoy over 200 mountain gorillas which exist in the Park plus other animals such as elephants, buffaloes, giraffes, Okapis and others which are also found in the Park.